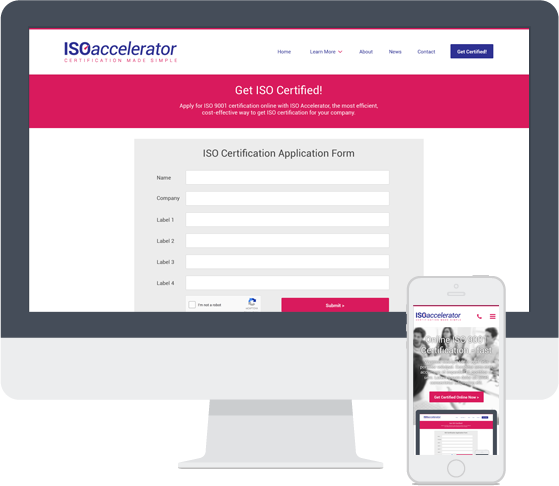 ISO 9001 Certification Online
Obtaining ISO certification is a great way to demonstrate that you are running a high-quality, customer-focused business that's a cut above the competition.


However, the traditional ISO registration process can be costly, time-consuming, and labour-intensive. Many company owners feel that they simply don't have the resources for it.

But help is at hand! If you're seeking a fast, cost-effective way to achieve ISO accreditation for your business, your search ends with ISO Accelerator. Our streamlined, accredited certification process allows you to apply for and get ISO certification online, with no site visits or lengthy consultation sessions necessary. We can provide any combination of ISO 9001, ISO 14001 and ISO 27001 certification.
Apply for ISO Certification
Why Choose ISO Accelerator?
There are lots of good reasons to choose our online ISO certification service. Here are some of the key benefits:
Get Certified Online, Safely & Quickly! – Our service allows you to get certified faster, and the entire ISO certification process is conducted online, eliminating the need for face-to-face consultations and site visits.
Reduce Certification Costs – Sorting out your ISO certification online can save you money in a number of different ways, most notably by removing the need for a 3rd party auditor to physically visit your facility.
Expert Resources – We have expert auditors and experienced ISO 9001 consultants on hand who will help you to implement your ISO-compliant management system.
IAFDC Recognition – Our accreditation body (USAS) is a member of the IAFDC. Using the latest countermark technology for authentication, any certificate that bears the IAFDC logo can be authenticated through their worldwide program of multilateral recognition.
Save the Planet – Sustainability is a key objective for many modern businesses. Completing the ISO registration process online means that auditors don't have to travel to your premises in person, reducing CO2 emissions. We are the environmentally-friendly choice!
We have helped lots of businesses to achieve ISO 9001 and other certifications. Here's some of the feedback we've received from our clients across the UK…
"A simplified, complete approach to achieving ISO 9001. It's definitely more client-focused than other certification bodies, and I've used a few. Recommended."Valdamark Ltd
"We approached ISO Accelerator and got helpful, factual and unbiased advice. We have no hesitation in recommending them."Newton Tesla Electric Drives Ltd
"Their service, professionalism and the speed with which they executed our request were absolutely amazing. Should we require further certification, we will definitely be using ISO Accelerator."Loop Clothing Ltd
Read More Testimonials >
How to Apply for ISO Certification with ISO Accelerator
Our digital certification services makes it easy to obtain ISO 9001 certification for your business. We offer the following options:
ISO 9001 CERTIFICATION ONLY – Ideal if you already have a quality management system (QMS) in place.
MANAGEMENT SYSTEM, IMPLEMENTATION & CERTIFICATION – If you don't currently have a QMS in place, we will work with you remotely to develop and implement a system that meets all the requirements of ISO 9001. We will then help you to get ISO certified.
We can also assist businesses that already hold ISO certification, but wish to save time and money by switching to remote auditing.
Find Out More >
ISO Certification FAQs
What is ISO 9001 certification?
ISO 9001 is the leading global standard for quality management systems. If your organisation has a QMS in place that fulfils the requirements of the ISO 9001 standard, you can apply for ISO certification to demonstrate that you have adopted effective processes in order to achieve continuous improvement and deliver consistently high-quality products / services.
ISO 9001 certification is a great way to prove the quality of your business to potential customers. Some organisations will only work with suppliers who hold ISO accreditation, so getting certified may open some new doors for your company.
READ MORE: What is ISO 9001?
Who needs ISO certification?
The ISO 9001 standard is applicable to virtually all sectors, so regardless of what industry you're in, it is likely that your business will benefit from gaining ISO 9001 certification.

ISO 9001 accreditation is especially advantageous for manufacturers and service providers. Government organisations tend to prefer working with companies that have an effective QMS in place, so ISO certification is also recommended if you're aiming to win government contracts.
Who can issue ISO certification?
Certification companies can issue ISO certification if they are accredited by a recognised accreditation body. ISO Accelerator is accredited by USAS to provide ISO 9001, ISO 14001 and ISO 27001 certification.
Click here to view a copy of our accreditation certification
.
How do I get ISO certification?
Here's how to become ISO certified with ISO Accelerator:
Our ISO 9001 experts work with you remotely to develop a compliant quality management system (QMS)

Your organisation implements the QMS

We conduct a remote audit to ensure that the QMS has been properly implemented

Upon receipt of a compliant audit report, will issue your ISO 9001 certificate
This entire process takes approximately 7 days from beginning to end. For an additional fee, we offer a fast-track ISO certification process that can take as little as 2 days.
We can also provide ISO 14001 and ISO 27001 certification via the same process. If you already have a QMS in place and you just need to get certified, we can provide this service too.
READ MORE: How Does Remote ISO Certification Work?
How long does ISO certification last?
If you get certified through ISO Accelerator, your ISO 9001 certification will last for 1 year. After that, you will need to renew your certification annually – this involves submitting a compliant audit report and paying a small recertification fee.
SEE ALSO: Renew Your ISO Certification
Check an ISO Accelerator Certificate
ISO Accelerator uses most up to date technology to ensure that our certificates of ISO registration can be verified globally 24/7. Our international real-time ISO certificate authentication system called Scan and See© allocates a unique digital 'countermark' to our ISO certificates of registration – even when printed. When the countermark is scanned using the Countermark app, the user is immediately informed of the validity of the certificate, and automatically emailed an original copy of the ISO certificate.

Example countermark displayed on all certificates ISO registration
Online ISO Certification Saves the Environment!
By taking 25 auditors off the road

WE SAVE 185 METRIC TONNES OF CO2e By taking 25 auditors off the road, ISO Accelerator has reduced the carbon footprint of ISO certification bodies by 185 metric tonnes of CO2e per annum.
We can also provide ISO 14001 and ISO 27001 certification!
ISO Accelerator can also provide certification services for environmental management systems and information security management systems.
If you are looking to achieve
ISO 14001
or
ISO 27001
certification, please contact us and we will help you to get certified quickly and with minimal outlay. Discounts are available if you require multiple certifications.
We can provide ISO certification anywhere in the world!
Our digital certification method enables us to provide ISO certification services to businesses all over the world.
We don't visit your premises – the whole certification process is carried out online, so it doesn't matter where in the world you are.
Whether you're based in Europe, Asia, Africa, North America, South America or Australia, we at ISO Accelerator can help you to gain ISO 9001, ISO 14001 and/or ISO 27001 certification.
Apply for ISO Certification >
Latest ISO Certification News
Read all news >
ISO Accelerator is an accredited certification body that is authorised by USAS to certify companies against the requirements of ISO 9001, ISO 14001 and ISO 27001.