USAS
Please note that the USAS-accredited online certification process has only been accredited for small- to medium-size enterprises (classed as 25 employees or fewer). As such, we are regrettably unable to provide this service to larger organisations.


To ensure that ISO-Accelerator is working in accordance with defined standards, ISO-Accelerator has chosen to be accredited by USAS. With offices in Melbourne, Florida, USAS is an internationally-recognised accreditation body that sets defined standards to ensure the technical competence and integrity of its accredited organisations offering certification.

A copy of our accreditation certificate can be viewed here.

The USAS logo is an internationally-recognisable mark. Only companies certified by USAS are authorised to display the USAS logo. ISO Accelerator is the only company in the UK authorised to display this international mark of accreditation and offer their accredited programme of ISO 9001 self-certification.

Below is an example of the logo that is used by ISO Accelerator in the UK.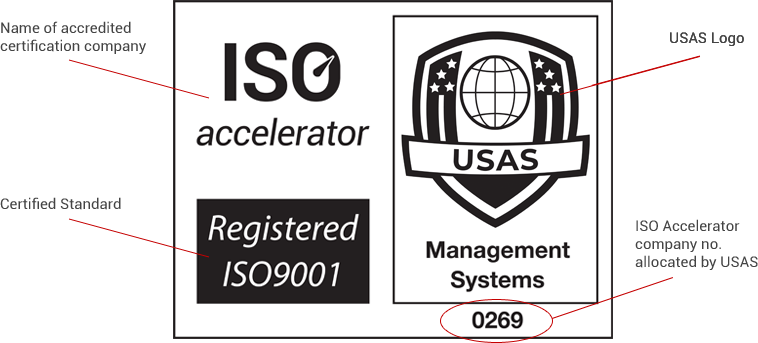 If you are in any doubt over the authenticity of an ISO9001:2015 certificate from ISO Accelerator, please use our USAS ISO certification checker tool.