Infection Prevention and Control
We can provide an
infection control policy
for your business. This will help you to protect your employees and limit the spread of infection in the workplace.
Every business, regardless of size, should have an infection control policy in place. The COVID-19 (coronavirus) pandemic of 2020 was a startling reminder of how much damage a virus can do when it's allowed to spread freely amongst a population, and it forced many organisations to dramatically reshape their processes and procedures so as to keep their staff safe.

Implementing an infection prevention and control policy is an excellent way to prepare your business for future outbreaks and to make it as difficult as possible for illness to spread throughout your company.
How can ISO Accelerator help?
We at ISO Accelerator have produced a comprehensive infection control policy for small and medium-sized businesses.

Once you have adopted and implemented your new infection prevention policy, we can provide an infection control certificate of best practice (optional) to demonstrate that you have taken steps to keep your employees and customers safe.
How to obtain an infection control certificate of best practice
Before we can issue a certificate, you must provide us with evidence that:
You have adopted an infection prevention and control policy

A risk assessment has been conducted (Using UK Government guidance as reference – we can supply a link to current guidance if required)

You have implemented controls to make the risk of infection as low as is reasonably practical
This evidence can be provided remotely. Your infection control certificate will be valid for 1 year and can be renewed annually subject to a renewal fee.

We can also assist with infection risk assessments – see Return to Work Risk Assessments for more information.
Infection Prevention & Control Products
Please be aware that our infection control policy and risk assessment tool were developed based on existing best practices and the advice of experienced infection prevention and control specialists.
Is my business legally required to have an infection control policy?
At present, there is no law mandating that a business must have a formal infection control policy in place.

However, in the wake of the recent coronavirus crisis, there is a strong possibility that the UK Parliament (and other legislatures around the world) will consider passing such a law.

If this were to happen, businesses may well be required to implement an infection prevention and control policy in order to protect workers and the general public from infectious diseases.

If your business needs an infection control policy, please call ISO Accelerator on 02381 040269 or contact us online today.
Supporting resources
If you require cleaning and sanitising where COVID-19 (coronavirus) has been present or suspected, please contact totaltraumacleaning.co.uk

Please be aware that this service is not supplied by ISO Accelerator and that clicking the link above will take you away from this site.

During the outbreak of COVID-19, Total Trauma Cleaning received a letter of gratitude from the House of Commons and was featured extensively in the local and regional news, including the BBC.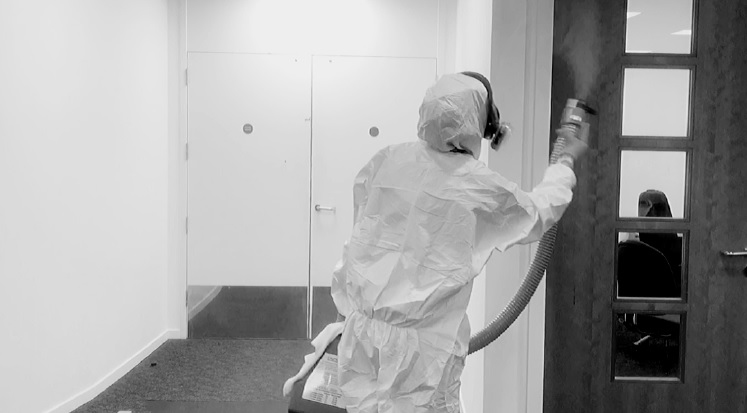 Image courtesy of Total Trauma Cleaning